Our Story
It is rare that an Air Tractor dealership changes hands: it cannot be done without approval from Air Tractor, Inc. This requirement became all too apparent to Bill Taylor of Farm Air, Inc in Fairfield, Illinois. Bill had begun to think about retiring from the business he formed in 1976. Shortly after forming Farm Air, Bill saw a need for an Air Tractor dealership in the Midwest and approached the company about becoming a dealer. Over 30 successful years later, Bill decided it was time to sell Farm Air with its Air Tractor dealership intact.
Bill's long time pilot, Mark Vaughn, had been with Farm Air for 33 years and did not want to buy the company-he simply wanted to continue flying. He had started working for Farm Air while in high school, loading planes to pay for flight time. Since Mark wanted to keep his role as a pilot, Bill didn't have a management succession to take over the company. In wanting to preserve Farm Air and everything he had created, Bill needed to find a new owner that could meet both Air Tractor's and his approval.
Harley Curless formed Curless Flying Service in 1977. The company's first Ag-Plane was a Pawnee. From there, the company grew to acquire Ag-Cats and an Ag-Truck, and in 1983, bought its first AT-301 from Farm Air. Numerous Air Tractors later, Curless Flying Service now operates an impressive fleet of Ag-Aircraft, which includes an AT-301 and, of course, a Pawnee. Harley had always bought his Air Tractors from Bill at Farm Air. This loyalty resulted in Harley becoming a long-time, faithful customer and friend. When Bill began to think about retiring, passing his business to Curless Flying Service was a logical consideration; this possibility had even been discussed on a few occasions in previous years.
Bill went to Air Tractor to propose his retirement and the selling of Farm Air to Harley Curless. In March 2009, Air Tractor announced the ownership transition of Farm Air would include the Air Tractor dealership. Bill and Harley had a busy schedule ahead of them; everything needed to be organized for an easy transition so that Farm Air  would be operational with its new owner by January 2010.
Harley began his expansion plans for Farm Air immediately after the announcement. These plans included moving the company North-over 200 miles-from Fairfield, Illinois to Astoria, Illinois. To do so, he quickly began construction on a new hangar to accommodate both maintenance and an expansive parts inventory. The 150' X 120' hangar, with an impressive 76-foot Schweiss hydraulic arm door, a 30' X 120' office, and parts department was completed in March 2010. The land also includes a 3,400-foot sod airstrip.
Farm Air has since grown to house a full maintenance shop (excluding heavy engine maintenance) complete with year round IA and A&P certified mechanics. Routine services include 100 hour inspections, annuals, and eddy current inspections. Technicians can install single point fuel systems, AMSAFE seatbelts, Wingman/Load Hawg auger systems, Reabe hopper quantity systems, Hemisphere GPS systems, and are Air Tractor certified to do wing spar A.D. repairs and wing rebuilds.
For the "Parts Department Inventory", having only items such as leading edge skins and windshields grew to include spray systems, GPS systems, hardware, tires, and even light bulbs. Almost any Air Tractor part needed can be found in this essential addition to Farm Air.
Neither Farm Air nor Curless Flying Service (now "sister" companies) have a single "key" employee. The two businesses rely on the strong work of about 30 employees during the busy spraying season and at least 12 during the off-season. "Our business is a group effort and members of our staff are very much appreciated," says Harley, "That group effort starts at home."
"Every day of the year our employees are committed to supporting each other and the customers of Farm Air and Curless Flying Service. I have had especially great support and understanding from my wife, Kay, for so many years that I cannot begin to express my gratitude for her commitment and dedication to the industry and me. It is also very humbling for Mr. Leland Snow and Air Tractor to select me to represent the company as a dealer."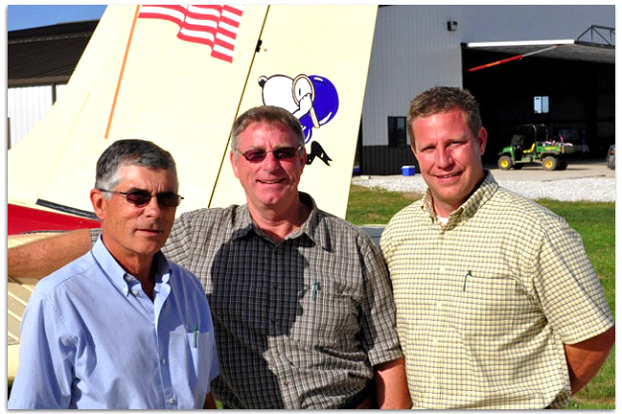 Bill Taylor (left) passes on the Farm Air tradition to Joe (right) and Harley Curless (center).